FRUE presents "First Light"(20.6.6)
20.06.06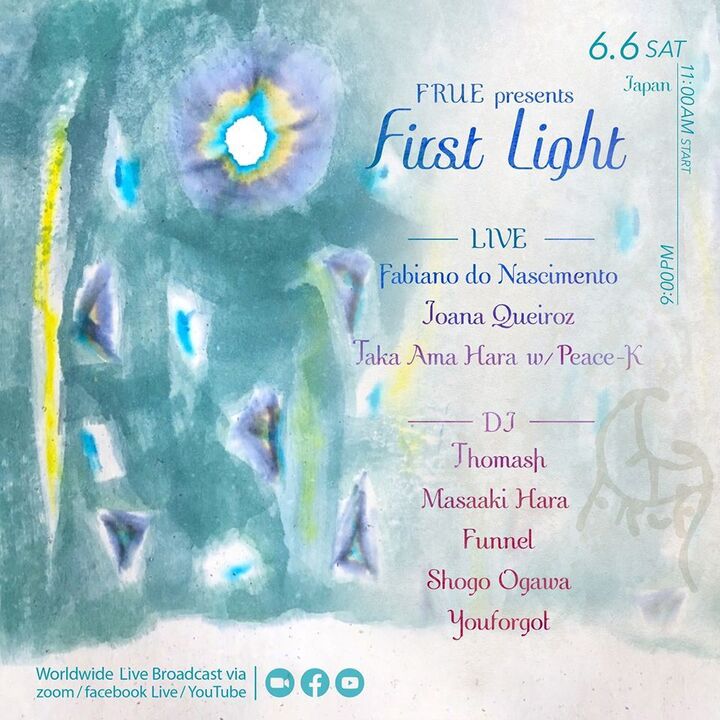 FRUE主催のオンライン・フェスティバル"First Light"が、日本時間で6月6日(土)11時より21時まで開催されます。LAからファビアーノ・ド・ナシメント、ブラジルからジョアナ・ケイロスとVOODOOHOPのトマッシュ、沖縄からはTaka Ama Hara w/Peace-Kが出演します。東京はdublab.jpから原 雅明、Funnel、それにGohempのShogo OgawaがDJで参加します(11:30〜14:00予定)。Zoom roomよりYouTube / Facebookで配信予定です。
FRUE presents "First Light"
日時:2020年6月6日(土曜日)11:00~21:00
Live : Fabiano do Nascimento, Joana Queiroz, Taka Ama Hara w/Peace-K
DJ : Thomash, YOUFORGOT
labrat DJ:Masaaki Hara, Funnel, Shogo Ogawa (Gohemp)
FRUE presents "First Light"
The vision we have for this festival is an image of "dawn".
We are producing the online space in the hope for people all around the world to see a beautiful break of the day.
By using Zoom, we'll switch between performances and audience feed to create an atmosphere of a live experience.
Please invite your friends!
6.5.Fri-6.6.Sat
19:00-5:00 LA
23:00-9:00 Brasil
6.6.Sat
4:00-14:00 Berlin
11:00-21:00 JP
-LIVE-
Fabiano do Nascimento
Joana Queiroz
Taka Ama Hara w/ Peace-K
-DJ-
Thomash (VOODOOHOP)
Masaaki Hara (dublab.jp / rings)
Funnel (dublab.jp / astrollage / rings)
Shogo Ogawa (Gohemp)
YOUFORGOT
Worldwide Live Broadcast
via Zoom, Facebook Live or YouTube
Limited space @ the Zoom room.
https://us02web.zoom.us/j/82955174605
Donation-寄付—:
Paypal
https://paypal.me/frue3393?locale.x=ja_JP
webshop
https://frue.shop-pro.jp/
Flyer Image:
Yuriko Shimamura
Flyer Design:
Peco Mal
協力:
dublab.jp / VOODOOHOP / Sorane Yamahira / Lissa / 株式会社ハタケスタジオ / Infusiondesign inc. / イマジン株式会社
Brought to you
by FRUE Online Broadcast & 藤井 大輔 (Daisuke Fujii)
■ Masaaki Hara
音楽の物書き。
レーベルringsのプロデューサー、LA発のネットラジオdublab.jpのディレクター、DJやホテルの選曲も務め、都市や街と音楽との新たなマッチングにも関心を寄せる。
著書『Jazz Thing ジャズという何か——ジャズが追い求めたサウンドをめぐって 』(DU BOOKS)ほか。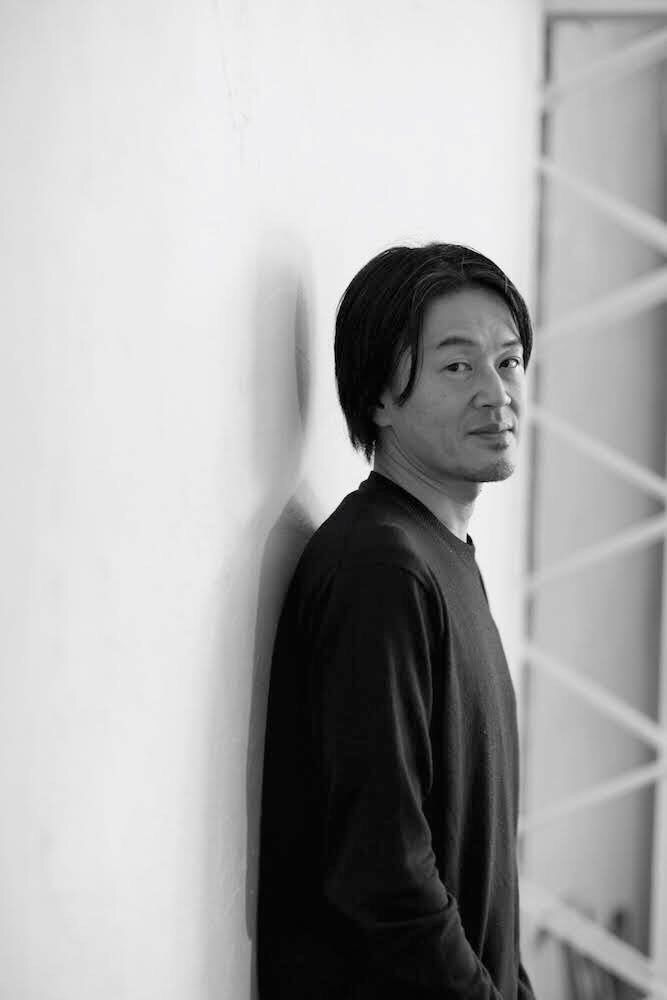 www.ringstokyo.com
twitter.com/masaakihara
www.mixcloud.com/masaakihara/
■ DJ Funnel(astrollage / stripe-dot. / dublab.jp)
DJ/TRACK MAKER。astrollage、stripe-dot.主宰。ABSTRACT、BREAK BEATS、 ELECTRONICA、HIPHOP をベースに、ROCK やフィールドレコーディングといった様々 な要素を取り入れ、繊細で暖かく、力強い空間を創り出す。今まで世に放たれた MIX 作品 は、独特の選曲センスと絶妙な MIX で、常に話題を呼んでいる。現場では、スクラッチを 織り交ぜたビートサウンドなアプローチから、アコースティックやアンビエントまで、クラ ブ野外カフェといった、場所と空間を選ばない選曲を聴かせる。浮遊感と叙情的な自身の楽 曲や、L.E.D.や No.9 等の Remix Work、LA の非営利ネットラジオ局 dublab の日本ブラン チ dublab. jp での labrats DJ としても活躍。今迄に、16 本にも及ぶ MIX 作品をリリース し、2017 年 4 月から自身がプロデュースするレーベル astrollage を設立。また、原雅明の プロデュース・レーベル、rings の運営にも携わる。
Shinichiro Mikawa known as DJ Funnel is a Tokyo based DJ and track-maker. He is the owner of record label/music collective "stripe-dot." and is the director of record label "astrollage". His DJing skills allow significantly smooth flow that is delicately blended with wide range of music selections crossing over genre borders varying from bouncy scratching hip hop beats to warm and gentle acoustic music to echoing ambient sounds, all of which are perfectly displayed in his numerous DJ mix series which he has released over the years. Along making his own music often described "airy lyrical", he has contributed remix works for artists like L.E.D. and No.9 to name a few. While enjoying his involvement with dulab.jp radio (Japan branch of LA's dublab) as "labrat DJ", he keeps himself busy in managing recored label "rings". His 16th DJ mix "Green World" (released in Dec.2019) is his latest work available.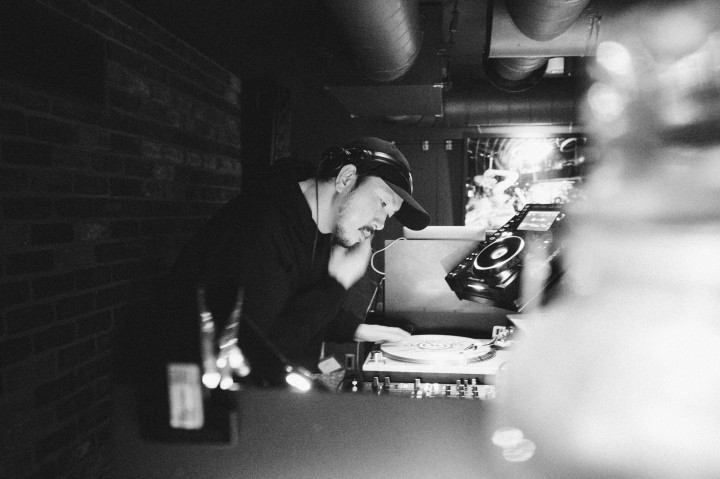 Instagram : www.instagram.com/fun_nel
twitter : twitter.com/FuN_NeL
official site : www.djfunnel.com
■ Shogo Ogawa (Gohemp)
民族音楽、スローハウス、ニューエイジ、ジャズなどをヒップホップの解釈で。
人生のテーマ曲は79「空想はGangstaz」