DJ Shhhhh – funeral gaucho (11.08.05)
11.08.05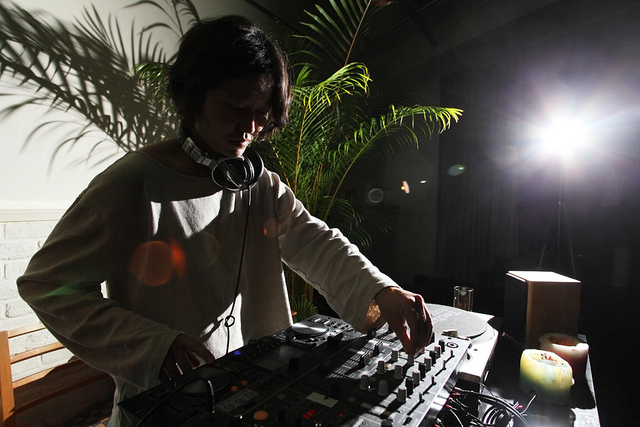 DJ Shhhhh has assembled a collage of dreamy music made to celebrate life beyond the last breath.
This is a funeral precession flashing with nostalgia.
It is a musical collage evoking memories of high moments: your first dive into the sea, the deepest kiss,
a laugh that creased your cheeks and opened flowers.
DJ Shhhhh invites you to move past this Earthly realm and swim in lovely limbo.
DJ Shhhhhが、最期の瞬間を越えて生命を祝福するためのすばらしい音楽のコラージュを組み立てた。
これは、ノスタルジーが見え隠れする音楽の葬列だ。これを聞くと、自分の人生の最高の瞬間の思い出を呼び起こしてくれる。初めて海までドライブしたこと、一番熱いキスの記憶、ほおをしわくちゃにして大笑いしたこと、そんな人生の盛りの頃。DJ Shhhhhがこの曲で、あなたを土の香りがする過去の世界へ導く。そしてあなたを忘却のかなたに漂わせてくれる。
PLAYLIST:
CARLOS NINO & FRIENDS/Friends/HIGH WITH A LITTLE HELP FROM/KINDRED SPIRITS
JON HASSEL/EMPIRE/Magic Realism/POLYDOR
Dolphins into the Future/Memory of Self/ON sea-faring isolation/Not Not Fun
Tatsuhiko Asano/Hanging Scroll/Spacewatch/AKICHI RECORDS
Alejandro Franov/DW8000/Aixa/Nature Bliss Inc.
ROB MAZUREK/There Reasons Not To Blow Up The World/Calma Gente/Catune
EMILIO HARO/odentro/PANORAMICO/Radiaciones Armónicas
YOSHIMI&YUKA/SPAY said ONE/Flower With No Color/Ipecac Recordings
EGBERT GISMONTI & NANA VASCONCELOS/Aquarela Do Brasil/Duas Vozes/Ecm Records
STEVE TIBBETTS/FORM/NORTHERN SONG/Ecm Records
Cesar Franov/ ESTA EN MI MENTE/Un Camino De Sabiduria/Melopea Discos
DOMINGO CURA/EN VIVO EN NEUQUEN/Melopea Discos
SAMI/A ABDI/Weave/Amber & Topaz/PANAI (naturebliss.jp)
FRANCESCA ANCAROLA/Canto Libre/Lonquen/Petroglyph Records
MONO FONTANA/ Aquí, después/CIRUELO/Melopea Discos
ROBERTO CACCIAPAGLIA/Sei Note In Logica(PART 1)/Sei Note In Logica/UNIVERALINTER NACIONAL
JULIEN CHIROL ENSEMBLE NORD-SUD/ANYA-CHANGO1.2/ANYA/MUSIC UNIT
YOSHIMIO/ARARAH/Yunnan Colorfree/Commmons
NOUVELLE CALEDONIE/Apetau, Chant Taperas, Langue Haeke, OunDJo, Voh/VOIX DES RIVAGES ET DES MONTAGNES/BUDA MUSIQUE
Cornelius Cardew/FATHER MURPHY/FOUR PRINCIPLES ON IRELAND AND OTHER PIECES/Ampersand